Manual Handling Training Course
Under the General Applications 2007(S.I. 299) manual handling of Loads is Defined as:
"Any transporting or supporting of a load by one or more employees and includes lifting, putting down, pushing, pulling, carrying or moving a load, which, by reason of its characteristics or of unfavorable ergonomic conditions, involves risk, particularly of back injury, to employees."
If any task comes under this description, An employer must  complete a Risk Assessment for the task in hand and provide Manual Handling Training Course
Course Duration Approx 3 – 4 hrs
Number of students Max 12
Course Objectives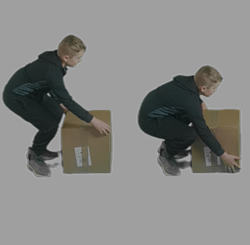 The aim of this Manual Handling Training Course is to give the student the skills and knowledge required to be proficient in Manual Handling operations, and in doing so, to minimize the risk of injury to themselves and their colleagues.
Course Outline
1. Define Manual Handling
2. Emphasize the hazards of poor manual handling
3. State the legal obligations of both the employer and the employee
4. Describe the functions and importance of the spine with the aid of props
5. List the principles of safe lifting
6. Demonstrate 5 basic lifts.
Class must perform basic lifts
For more information about Manual Handling Training please contact us at our West Waterford Offices
We also cater for groups or an individual Manual Handling Training Course on our eLearning page here